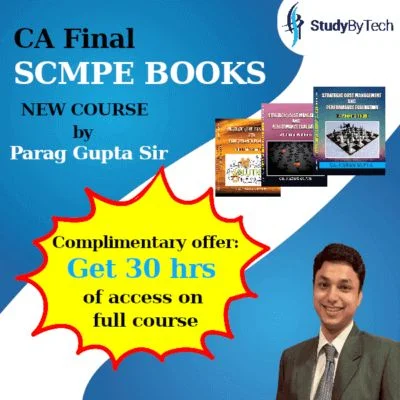 14th Edition CA final scmpe books| By Parag Gupta Sir
Books are updated for Nov 22 and May 23 exams (CA Final Costing Best Book)
Rs.1500/-
About The CA Final Books for SCMPE Course
The Latest 14th edition of CA final scmpe books by Parag Sir is out in the market. This is considered as CA Final Costing Best Book (Costing New Syllabus CA Final) and famous as SELF STUDY BOOK for SCM & PE through which CA aspirants can easily prepare for CA Final Costing exams. The book includes all updation as per the updated ICAI syllabus.
Parag covers all the CA Final Costing Important theory questions as well as the practical question with real case scenarios and case studies. Parag Sir also teaches how-to study ca final costing new syllabus so you can easily crack the CA final Exam
Sample of book, Homework videos, Handwritten class slides, and Lecture-wise details, are available at the following: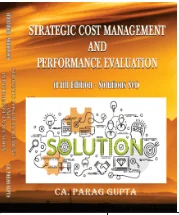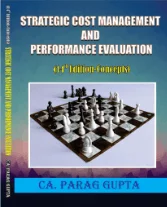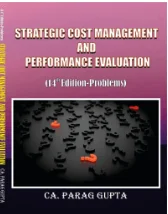 Why Our Books Considered as the Best Book For CA Final Costing New Course
Several new questions from international courses such as CPA, CGMA, ACCA, ICAEW, etc.
Covers all ICAI questions.
Best Focused on Comprehensive knowledge.
Detailed but easy explanation of every concept-A Self-study book.
Most suitable for upcoming CA Final examinations.
Most recommended book for CA Final students.
Click here for the Full Batch of CA Final Costing New Course
Why Parag Gupta Sir is considered as best Faculty for CA Final Costing?
Only Parag Gupta sir covers the in-depth case-study-based approach introduced by ICAI in the CA Final Costing Classes(SCMPE CA Final) of the New Course.
He gives equal emphasis to both numerical and subjective topics (including case studies and case scenarios) and covers case studies questions asked in various international examination papers such as ACCA, CIMA, CPA, etc.
He covers all updated study materials of CA Final Costing(SCM & PE) and provides free additional lectures for any change or update and all RTPs, MTP, Past examination papers are covered in a very detailed manner.
100% of questions of SCMPE books(CA Final Costing books), RTP, MTP, Past Examination papers are covered in our classes.
Ways To Enroll To The CA Final Study Material
To buy this 14th Edition CA Final Costing SCMPE Books, kindly transfer the fees to our bank account given below and send us the REFERENCE NO. with your name, phone no. & shipping address with Pincode on contactus@studybytech.com.
1.
Through Payment Gateway attached to the website: Pay through all Indian Debit Cards, Credit Cards, and Netbanking (except American Express);
2. Through Direct Bank Transfer: Pay through popular UPI apps such as Bhim, PayTm, Google Tez, Freecharge, Mobikwik, etc. & e-mail us payment proof at contactus@studybytech.com. After the payment done in our bank account, you are requested to mail the TRANSACTIONAL PROOF to our email ID contactus@studybytech.com, with your StudyByTech Username & Registered email ID.
Also, you can transfer fees in the below-mentioned bank account.
Bank Account Details
| | |
| --- | --- |
| Name of Account Holder | SSV STUDY-BY-TECH PRIVATE LIMITED |
| Account number | 201001343244 |
| Bank Name | IndusInd Bank |
| Account Type | Current Account |
| Branch Name | Preet Vihar Branch |
| Branch Address | C-61, Preet Vihar Vikas Marg, New Delhi-110092 |
| IFSC / RTGS Code | INDB0000031 |
| UPI Code | studybytech@indus |
For CA Final Costing New Course (SCMPE):- Click Here