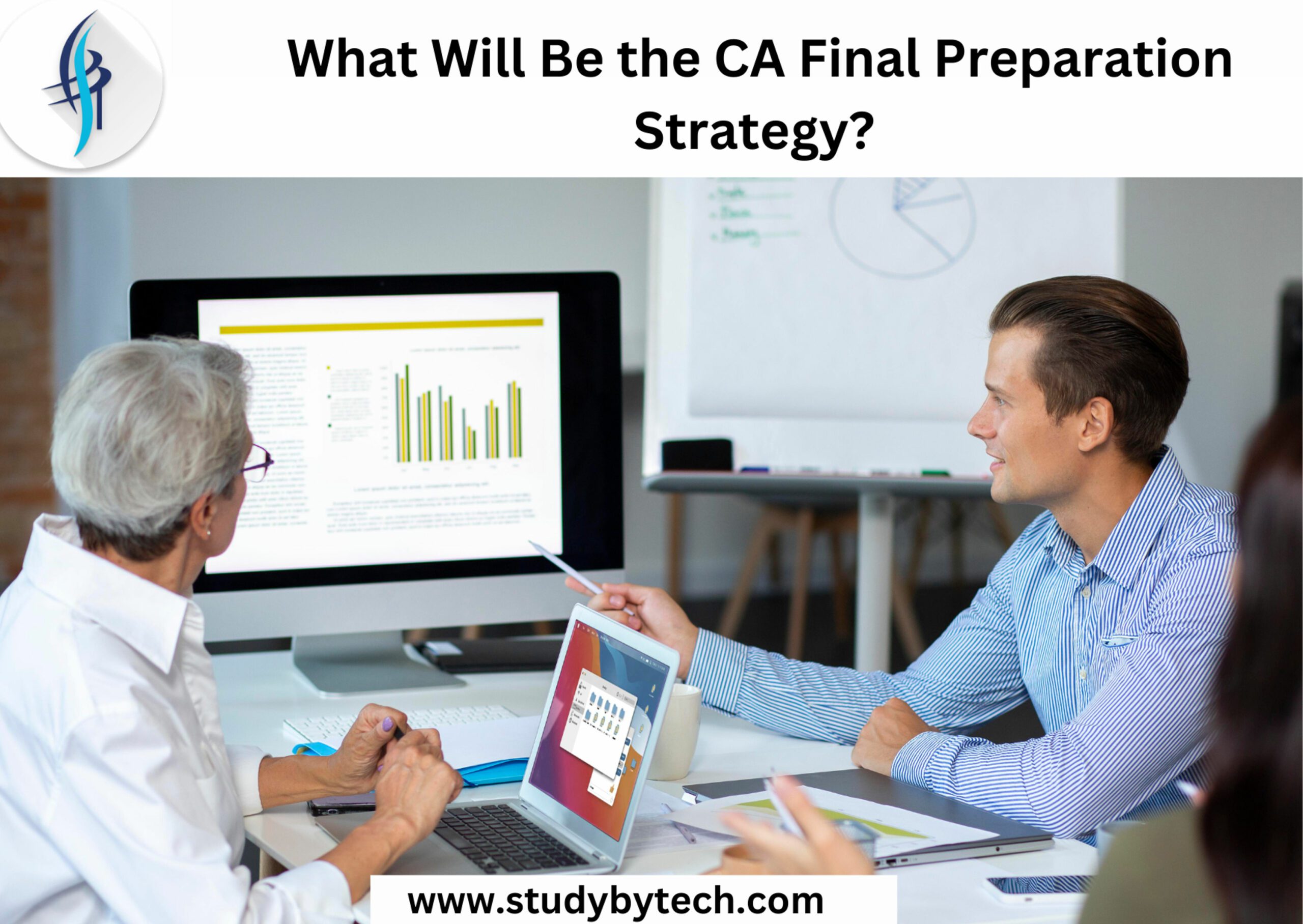 Introduction
The journey to becoming a Chartered Accountant (CA) in India is a demanding and challenging one. The CA Final Examination is the ultimate hurdle that aspiring CAs must overcome to achieve their goal. To succeed in this crucial examination, a well-thought-out preparation strategy is essential. In this blog, we will delve into the key components of an effective CA Final preparation strategy, shedding light on the importance of quality study materials and the guidance of experienced faculty, particularly Parag Gupta, renowned as India's best faculty for CA Inter SM and Costing at StudyByTech.
Understanding the CA Final Examination
The CA Final Examination consists of two groups, each containing four subjects. These eight subjects cover various aspects of finance, taxation, law, and auditing, making it a comprehensive assessment of a candidate's knowledge and skills. Here's a breakdown of the subjects:
Group I (as per CA Final Nov 23)
1. Financial Reporting
2. Strategic Financial Management
3. Advanced Auditing and Professional Ethics
4. Corporate and Economic Laws
Group II(as per CA Final Nov 23)
5. Strategic Cost Management and Performance Evaluation
6. Elective Paper (One out of six available options)
7. Direct Tax Laws and International Taxation
8. Indirect Tax Laws
Given the vast syllabus and the complexity of the subjects, a systematic and effective preparation strategy is imperative.
As per the new syllabus for CA Final May 24 exam following are the subjects in each group:
PAPER 1:

FINANCIAL REPORTING (100 MARKS)

PAPER 2:

ADVANCED FINANCIAL MANAGEMENT (100 MARKS)

PAPER 3:

ADVANCED AUDITING, ASSURANCE AND (100 MARKS) PROFESSIONAL ETHICS

PAPER 4:

DIRECT TAX LAWS & INTERNATIONAL (100 MARKS) TAXATION

PAPER 5:

INDIRECT TAX LAWS (100 MARKS)

PAPER 6:

INTEGRATED BUSINESS SOLUTIONS (100 MARKS)
PLUS 2 SELF PACED ONLINE MODULES-
Self-paced Online Module: Set A- Corporate & Economic laws
Self Paced Online Module: Set B- Strategic Cost & Performance Management
The Importance of Quality Study Materials
Quality study materials are the cornerstone of any successful CA Final preparation strategy. Study materials should be comprehensive, up-to-date, and aligned with the examination syllabus. Here's why they are crucial:
1. Comprehensive Coverage: The CA Final syllabus is extensive, and study materials should cover all topics comprehensively to ensure that no important area is left unprepared.
2. Concept Clarity: Quality study materials are structured to provide a deep understanding of concepts rather than mere rote learning. This is essential for answering application-based questions in the exam.
3. Latest Updates: Taxation laws and accounting standards are subject to frequent changes. Quality study materials are regularly updated to reflect these changes, ensuring that candidates are well-prepared for the current exam.
4. Practice Questions: Study materials should include a variety of practice questions, including past exam papers and mock tests. These help candidates gauge their progress and get a feel for the actual exam.
5. Guidance from Experts: High-quality study materials often come with annotations and explanations from experienced faculty members, providing valuable insights and clarifications.
Parag Gupta: India's Best Faculty for CA Final-SCPM(Strategic Cost & Performance Management)
When it comes to CA Final SCPM(Strategic Cost & Performance Management), Parag Gupta's name shines brightly. He is widely regarded as India's best faculty for these subjects, and for good reason. Parag Gupta's teaching methodology is exceptional, and his expertise in these areas is unmatched.
1. Conceptual Clarity: Parag Gupta's teaching approach focuses on building a strong foundation of concepts. He breaks down complex topics into easily digestible components, ensuring that students grasp the underlying principles thoroughly.
2. Practical Application: CA Final exams often include questions that require practical application of concepts. Parag Gupta's guidance equips students with the skills needed to tackle such questions effectively.
3. Regular Updates: Given the dynamic nature of business and management, staying updated is crucial. Parag Gupta incorporates the latest industry trends and case studies into his teaching to provide students with real-world insights.
4. Interactive Learning: Parag Gupta's classes are known for their interactive nature. He encourages students to ask questions and engage in discussions, creating an environment conducive to effective learning.
Access to our ocean of knowledge through Online and Offline Classes
StudyByTech, the platform where Parag Gupta imparts his knowledge, offers a plethora of online and offline classes. This flexibility is invaluable for CA Final aspirants, as it allows them to choose the mode of learning that best suits their needs.
Online Classes
Online classes are accessible from anywhere, making them ideal for students who prefer studying from the comfort of their homes.
Recorded lectures are available for reference, allowing students to revisit complex topics whenever necessary.
Live doubt-solving sessions enable students to get instant clarifications on their queries.
Offline Classes
Some students benefit more from in-person interactions. StudyByTech provides the option of attending Parag Gupta's classes in a physical classroom setting.
Offline classes facilitate face-to-face interactions with the faculty and fellow students, enhancing the overall learning experience.
Resources Beyond Classes
Successful CA Final preparation goes beyond attending lectures. To excel in this exam, candidates should also make use of additional resources:
1. Practice Papers: Regularly solve practice papers and mock tests to familiarize yourself with the exam pattern and improve time management.
2. Study Groups: Joining or forming study groups can be beneficial. Peer discussion of ideas can provide you with new insights and improve your comprehension.
3. Self-Study: Allocate ample time for self-study. Use quality study materials and make a study schedule to cover the entire syllabus systematically.
4. Revision: Regular revision is crucial to retaining information. Create concise notes and revise them periodically.
5. Mental and physical health: Don't neglect your health. Proper diet, exercise, and relaxation techniques can help maintain focus and reduce stress.
Conclusion
Becoming a chartered accountant is a prestigious achievement, but it comes with rigorous challenges. The CA Final Examination is the ultimate test of your knowledge and skills in various aspects of finance and law. CA Final Preparation Strategy To succeed, a well-rounded preparation strategy is essential, starting with quality study materials that cover the entire syllabus and provide conceptual clarity.
Parag Gupta, renowned as India's best faculty for CA Final SCPM, offers invaluable guidance in these subjects. His teaching methodology, which emphasizes conceptual understanding and practical application, has helped countless students excel in their exams.
Also read: Top 5 Revision Strategies To Study Smarter For Upcoming Exams
Read more:

ICAI