CA Final Costing New Course (SCMPE) By Parag Gupta Sir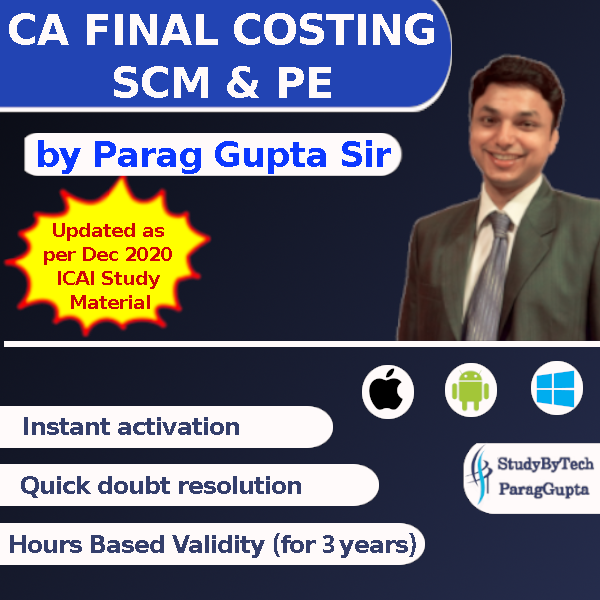 CA Final Costing SCMPE New Course Regular Batch
CA Final Costing Video Lectures + Study Material
Instructor: Parag Gupta Sir
Rs.13,900/-
CA Final Costing Pendrive Classes- Rs.14,700/-
CA Final Costing Mobile App (Android & iOS)- Rs.13,900/-
CA Final Costing New Course Video Lecture + Study Material By Parag Gupta Sir
ENROLLMENTS OPEN FOR OUR LATEST SCM&PE BATCH. YOU WILL GET WITH THIS COURSE THE MOST UPDATED STUDY MATERIAL OF CA FINAL COSTING CLASSES (EDITION 14). You will be guaranteed the best-updated study material for CA Final Costing(SCMPE CA Final)
This course covers all topics related to the ICAI syllabus for CA Final Costing New Course. Parag Gupta Sir gives special emphasis on conceptual clarity of the topics by giving real-life examples. No. of CA Final Costing new syllabus classes are 75 and No. of hours are 260.
CA Final Costing Classes are available in-app mode and Pendrive Mode. Our CA Final Costing Classes Pendrive is easily accessible. The video quality in Pendrive classes for ca final costing Is Very good. (best pen drive classes for CA Final Costing)
The full course provides 3 yrs validity with full student support and free course updates. CLASSES & BOOKS ARE UPDATED AS PER DEC 20 ICAI STUDY MATERIAL. Costing New Syllabus CA Final Classes are considered as one of the best costing classes. (CA Final SCM and pe Pendrive classes)
Sample of book, Homework videos, Handwritten class slides, and Lecture-wise details, are available at following:
CA Final Costing classes

Details
TOPIC

DESCRIPTION

MODE OF CLASSES

Android and iOS Mobiles & Tablets & Windows

NUMBER OF CLASSES

75

NUMBER OF HOUR

260 (20% extra of total hours)

VALIDITY OF COURSE

VALIDITY according to hours. We are just tracking no. of hours till 3 yrs.

DEMO

Get 15 hours demo on the installation of our app StudyByTech app

LANGUAGE USED

Blended(English & Hindi)

CLASSES ALSO INCLUDES

Along with books, a soft copy of handwritten class slides of Parag Gupta sir is also provided. Revision, Study, and Examination tips videos are also provided. All updates to the course are automatically updated on your course dashboard. FULL SUPPORT is provided till you PASS THE EXAMS.

FEES

13900(without SD card)




14700(with SD card)

Updates

Will be provided till 3 yrs

Sample of books, Handwritten notes, Class slides and Chatpterwise description

https://tinyurl.com/bilingualbatch
Features Of StudyByTech App
COMPATIBILITY

Android(4.4.2 & later), iOS-iphones, iPad (9.3 & later)

PLAYER FEATURES

Controls playback speed;
Video quality change according to Internet speed.
Resume the class where paused
ADD NOTES feature

To add personal notes to the course. Useful for REVISION of course.

DISCUSSION FORUM

To discuss any query with your teacher & other subscribed users.

HTML Port, Screen Mirroring & Casting


These features are disabled.
WAYS TO WATCH CLASSES
| | |
| --- | --- |
| Online using the Internet | Our video player has the facility to change bitrate according to internet speed or mobile data availability. Along with that our player has the facility to choose a bitrate quality as per your choice. |
| Offline download to save Mobile Data | This feature is slightly similar to the one being provided by Hotstar. When you download a video, you can only watch the downloaded video from the StudyByTech app itself. You will require very less internet connectivity just to update data. |
SAVE MONEY ON OUR CLASSES
In case you didn't know, the cost of classes is only 13900, but Apple charges 30% on all payments made through iTunes. If payment is done through www.studybytech.com through direct bank transfer, there is no transaction cost and you will save money.
EMI Facility available-
You can select the EMI option at the time of payment through PAYMENT GATEWAY. On selection of EMI option, you need to select the Credit Card through which you want to pay the EMI. This will provide the break down of the EMI options present.
TABLETS SPECIFICATIONS
We are also providing tablets at subsidized rates. Although, it is not compulsory to buy tablets from us. You can view our classes from any Android version with 4.4.2/later & iOS 9.3/later (compatible with iPhone,iPad, and iPod touch). Specification of tablets provided by us is given below-Specificationshttps://tinyurl.com/majestic01MRP9,999/-Subsidised Rates6250/-P.we charge extra for courier for dispatching books outside India. Also, we don't dispatch SD card & Tablet outside India.

You can select your desired tablet at the time of payment on the ADD TO CART page.

* We provide a seal packed Tablet of iBall so we may not be able to help in terms of any warranty or any other issues. You need to contact iBall customer care for any kind of assistance relating to the tablet.
Why Parag Gupta Sir is considered as best Faculty for CA Final Costing?
Only Parag Gupta sir covers the in-depth case-study based approach introduced by ICAI in the CA Final Costing Classes(SCMPE CA Final) of the New Course.
He gives equal emphasis to both numerical and subjective topics (including case studies and case scenarios) and covers case studies questions asked in various international examination papers such as ACCA, CIMA, CPA, etc.
He covers all updated study materials of CA Final Costing(SCM & PE) and provides free additional lectures for any change or update and all RTPs, MTP, Past examination papers are covered in a very detailed manner.
100% of questions of SCMPE books(CA Final Costing books), RTP, MTP, Past Examination papers are covered in our classes.
ABOUT THE LECTURER-
Parag Gupta Sir is an Indian Chartered Accountant (CPA equivalent) & is considered as one of the BEST Faculty for CA Final Costing (SCMPE CA Final).
He gained knowledge from various International books sources and now considered as one of the best lecturers for scope CA Final(CA Final Costing).

He has served as an examiner of CA Final Costing AMA & O.R. at the CA Final level.

He has served as a visiting faculty member at several professional institutes including ICAI and has been taking active steps to improve the quality of teaching at many private educational bodies.

His friendly nature & helpful behavior has popularized him as a friend-cum-coach and not just a teacher among students & generally all rank holders & top-scorer prefer his classes.
CA Final Costing (SCMPE)- Demo Classes
WAYS TO ENROLL TO THE COURSE
To promote vocal for locals, kindly prefer to pay through UPI rather than a card.

1. Through Payment Gateway attached to the website: Pay through all Indian Debit Cards, Credit Cards, and Netbanking (except American Express);

2. Through Direct Bank Transfer: Pay through popular UPI apps such as Bhim, PayTm, Google Tez, Freecharge, Mobikwik, etc. & e-mail us payment proof at contactus@studybytech.com. After the payment done in our bank account, you are requested to mail the TRANSACTIONAL PROOF to our email ID contactus@studybytech.com, with your StudyByTech Username & Registered email ID.
Also, you can transfer fees below the mentioned bank account.

Bank Account details
| | |
| --- | --- |
| Name of Account Holder | SSV STUDY-BY-TECH PRIVATE LIMITED |
| Account number | 201001343244 |
| Bank Name | IndusInd Bank |
| Account Type | Current Account |
| Branch Name | Preet Vihar Branch |
| Branch Address | C-61, Preet Vihar Vikas Marg, New Delhi-110092 |
| IFSC / RTGS Code | INDB0000031 |
| UPI Code | studybytech@indus |
More from CA Parag Gupta Sir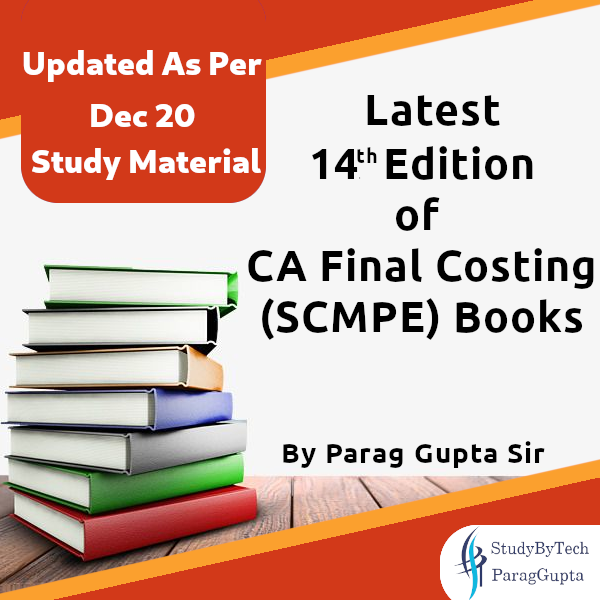 FAQ's CA Final Costing New Course
Q. How can I discuss my queries?
Teachers provide his contact no. and email ID to students in his first class. Students can directly discuss his/her queries with Teachers or use discussion forums as well.
Q. How will we get the Course study material?
We will provide the course material via courier to your registered address. For course from Parag Gupta Sir, we usually dispatch courier on the same or next day of payment confirmation. For other courses from other Teachers, we provide DROPSHIPPING.
Q. How to check the progress in the course i.e how much hours are utilised and how many are left?
This feature is course-wise. If you have purchased classes on the StudyByTech app and watching classes on the app, then you need to go to the course you have subscribed to, then click on course progress. There you will see the total no. of hours provided and the total no. of hours left.
Q. Which teacher is best for CA final Costing New Course?
Parag Gupta sir is one of the pioneers in the Teaching industry for CA Final Costing and is considered as the best faculty For CA Final Online Classes in the on-going scenario of coaching for CA Final Costing Classes (New course as well as Old course). He has served as an examiner of CA Final Costing AMA & O.R. at the CA Final level. His teaching is always focused towards concepts and gives equal emphasis to practical & theorical part of syllabus. He always teaches as per ICAI syllabus. Every year, mostly the rank holders & CA Final costing toppers are Parag sir's students.